Samui Maps and Links
Koh Samui, Thailand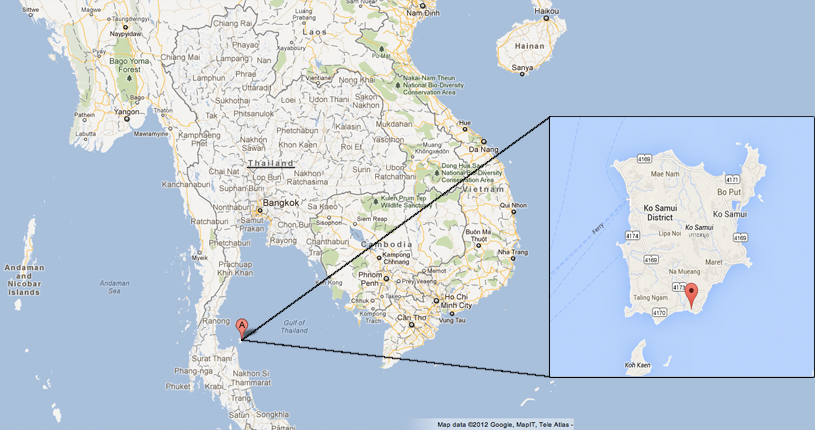 (Click on the map for google maps)
With a land mass of approximately 228km2, Koh Samui has a population of a mere 55,000. The island is located in the Gulf of Thailand, 80 km off the coast of Surat Thani and about 560 km from the capital, Bangkok.
Koh Samui was first "discovered" by backpackers around 35 years ago, attracted by the island's wild beauty and friendly locals. The island has undergone some dramatic changes in the following years, yet its natural tranquility still remains the same and its bohemian care free attitude will enchant you. With miles of white sand beaches and cobalt clear blue seas all around, you will know you have entered paradise itself.
Samui now attracts all walks of life, from honeymooners to film stars. It's a true cosmopolitan island and the locals make all welcome. This is why visitors to Samui return year after year and many decide never to leave at all.
The Island now boasts many 5 star hotels, resorts, restaurants and is fast developing into an up market tourist destination.
With the opening of an 18 hole championship golf course, a new International Marina planned, new hospitals and a forthcoming International School, Samui is set for the next phase in its evolution.
Samui is fast becoming an island to be visited all year round, as it benefits from a good weather season for around 10 months of the year.
Temperatures are generally between 30-35 degrees, which can sometimes rise to 40 degrees during April and May. Average temperatures during the wet season range between 25-30 degrees.

Links: